SMS and MMS messaging services generate substantial revenue for today's mobile operators, while new applications such as RCS are emerging
As subscribers become increasingly dependent on their mobile phones for everything from communications and business productivity to financial transactions, they have become valuable targets for attackers. Escalating messaging abuse affects the entire mobile ecosystem, resulting in significant loss and of revenue, operational problems, and customer churn.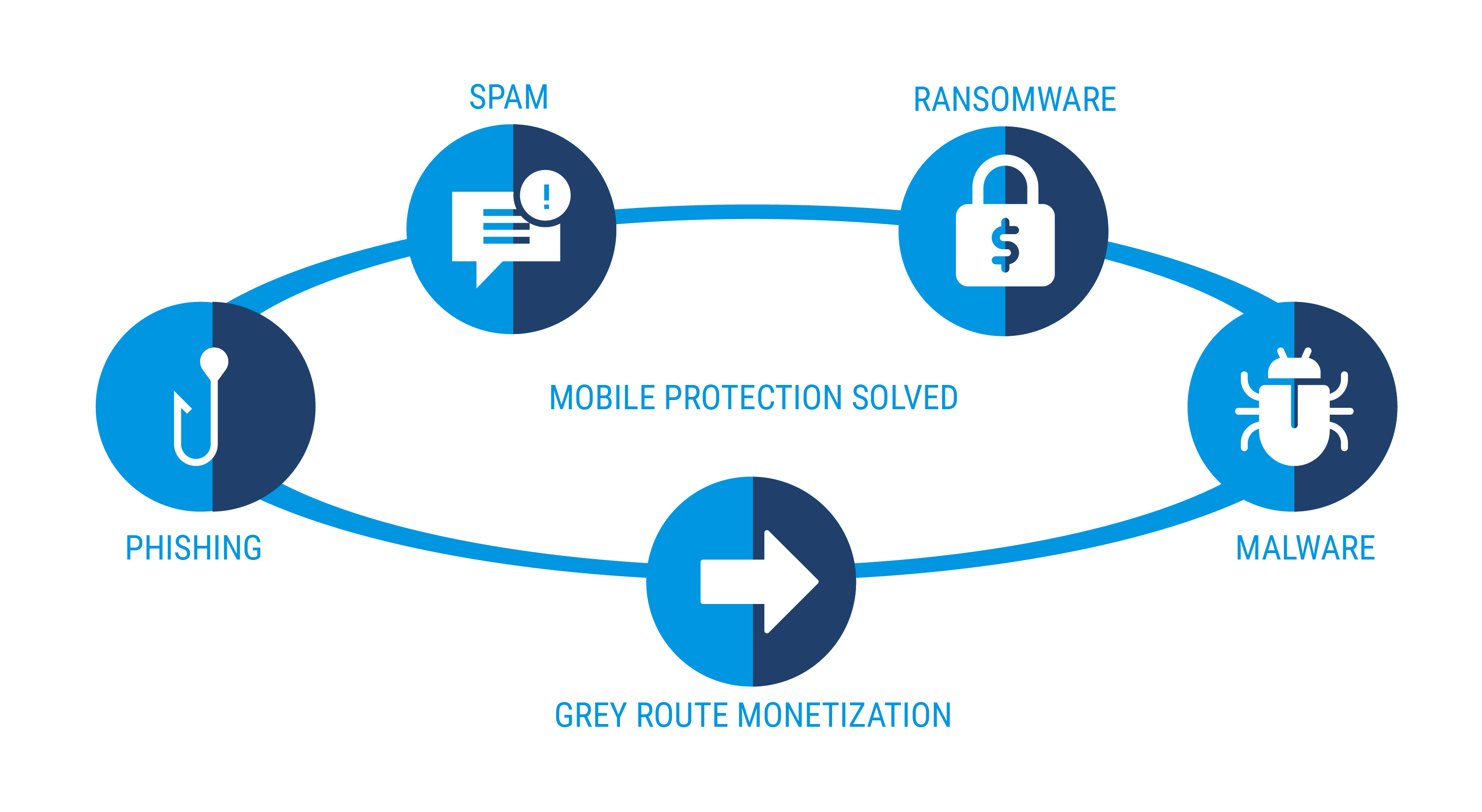 Eliminate Mobile Messaging Spam, Phishing and Malware
Spam, scams, phishing, and malware transmitted via mobile messaging infrastructure erode subscriber trust, increasing operating costs and devaluing brand loyalty. Cloudmark Security Platform automatically scans all SMS and MMS messaging traffic to protect your subscribers against all malicious messaging content. Utilizing proprietary technologies, Cloudmark stops abusive traffic before it can impact you customers and increase operating costs. Subscribers enjoy a secure mobile experience, improving loyalty to your brand and uptake of additional services.
Monetize Grey Route and A2P Traffic
The universal reach of SMS coupled with the growth of mobile messaging-centric marketing is driving strong growth for A2P (Application to Person) messaging. This channel of revenue is being threatened by bulk senders and message aggregators who exploit inappropriate bulk sending agreements or use foreign operators without interconnect contracts. These grey routes can allow third-party messaging entities to send messages through an operator's network without proper payment. Subscribers will receive the messages but the operators may not receive a mobile termination fee.
Cloudmark incorporates advanced on-net/off-net threat detection technologies to stop A2P revenue leakage and restore messaging profits. Most anti-spoofing, flooding and faking solutions use protocol level controls to counteract signaling fraud between mobile networks, but Cloudmark goes beyond these techniques to catch mobile attacks that may be entering your network via other illegitimate means. Cloudmark's solution extends beyond standard mobile messaging firewall filtering, automatically detecting advanced techniques such tethered handset or simbox bulk messaging campaigns, in which many pre-paid SIM cards are leveraged to thwart blacklisting and content controls.
Prevent IP Blacklisting
PC-based and mobile-based botnets are sending large amounts of SMTP spam to Internet destinations through mobile broadband networks. These spam campaigns can result in the blacklisting of some or all of an affected mobile network's outbound IP address space.
Cloudmark Security Platform supports IP-transparent filtering of all outbound SMTP traffic with industry leading content filtering capabilities. Unlike simple SMTP proxy solutions, Cloudmark Security Platform enables full policy control over the SMTP conversation via its advanced policy engine. Infected devices are detected and quarantined before they can impact service for other broadband subscribers. In addition, RADIUS resolution capability enables reputation tracking of infected sending devices (Smartphones, PCs, laptops, tablets, etc.), regardless of the currently assigned IP address.