We've reported before on binary options scams, fake trading schemes that bilk consumers all over the world out of millions of dollars a year. We were happy to see that US law enforcement is starting to take action against the alleged perpetrators of these scams, with the arrest this month of Lee Elbaz (aka Lena Green), CEO of Yukom Communications. Yukom is an Israel based company reported to be the owner of several binary options websites including BinaryBook, and Big Option. While Elbaz clearly occupied a senior position in Yukom based on the emails she wrote that are quoted in an FBI affidavit [PDF], the founder of the company, Yossi Herzog, remains safe in Israel. Israel is the home base of an estimated 90% of all binary options fraudsters, though like many Internet frauds, they use shell companies, mailing addresses, and bank accounts in other countries to confuse investigators. According to the FBI, Yukom employees used American sounding "stage names" when contacting customers. Recently we have seen unsolicited emails from companies that purport to be able to recover funds that have been lost to binary options scammers. Our first thought was that these were most likely a continuation of the scam. The Financial Industry Regulatory Authority (FINRA) has issued a warning about binary options follow up schemes, including offers to recover the lost money for an advanced fee, and impersonating IRS officials to demand back taxes. According to Gerri Walsh, FINRA's Senior Vice President of Investor Education, "...beware of any person or organization that claims to know about your binary options accounts and offers to help return money to you." Naturally an email that says, "You are receiving this email because you have lost money with binarybook" should be treated with suspicion.

Indeed, a number of Cloudmark's trusted users have reported this message as spam, in spite of the glowing testimonial included.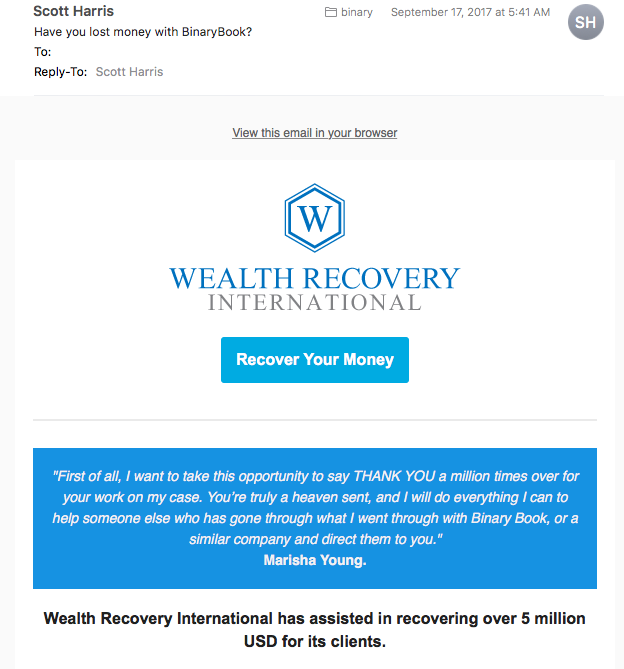 In fact, according to press reports, this company is genuine. Wealth Recovery International was founded by former employees of BinaryBook, who became disenchanted with the fraud they were perpetrating and decided to try to make matters better. They have been successful in recovering funds for some of the victims of binary option fraud, while taking a substantial cut themselves. However, they have not entirely outgrown their roots in the fraudulent binary options business. They use a New York address rather than their actual location in Tel Aviv, their agents use "stage names" to conceal their real identity, and they are sending unsolicited commercial emails to a mailing list that was presumably stolen from their former employer. While we respect the work that Wealth Recovery International to combat binary options fraud, we would appreciate it if they would respect US and Canadian laws on unsolicited commercial emails.