Characterizing the top four most prevalent types this summer, shifty financial spam and scams continue to lead UK SMS spam reports. However, the number five spot in the UK, product promotion spam, has taken an interesting turn. Traditionally, Apple products have been the go-to pitch for SMS spammers looking to catch the eyes of would-be consumers. Previously, we've also seen broad keywords such as "Android," "Blackberry," and "Windows 8" used as alternatives. But now in the UK, several spammers have begun using the new Samsung Galaxy S4. It is not often (if ever) that we see explicit device names outside of the Apple line-up used as SMS spam hooks. This could possibly present a bit of insight into consumer and market opinions, with
one retailer confirming
that nearly a third of Galaxy S4 sales had come from previous iPhone customers.  It seems that spammers have also moved to the latest and greatest. However, rumors suggest that Apple will fire back this fall with an iPhone 5S. If this is true, it's almost certain that UK SMS spam will shift back to the perennial Apple themes of old.

The UK Summer kicked off with several hefty spikes (seen below in Figure 2) of reports to the GSMA Spam Reporting Service that appeared to be aimed at scoring bettors for the World Cup Qualifiers. An example directing users via URL to signup on the bookmaker's sports betting website: "Get £10 totally FREE to play with on [REDACTED]. No deposit required. Tap link & claim FREE bonus [REDACTED].co.uk/casino5 T&C's apply. Txt STOP to OptOut." Bookmakers in the UK are legally allowed to take bets on sporting and other events, from horseraces, to TV shows outcomes, to football matches. You can even place bets on the announcement, due date, and gender of Will & Kate's next baby. Both during and immediately following several World Cup qualifying matches held in the first half of June, one such UK bookmaker steeply increased their SMS advertising campaign. These messages accounted for a whopping 17.5 percent of all UK SMS complaints for each of these days and obviously made a noticeable impact on mobile phones across the UK.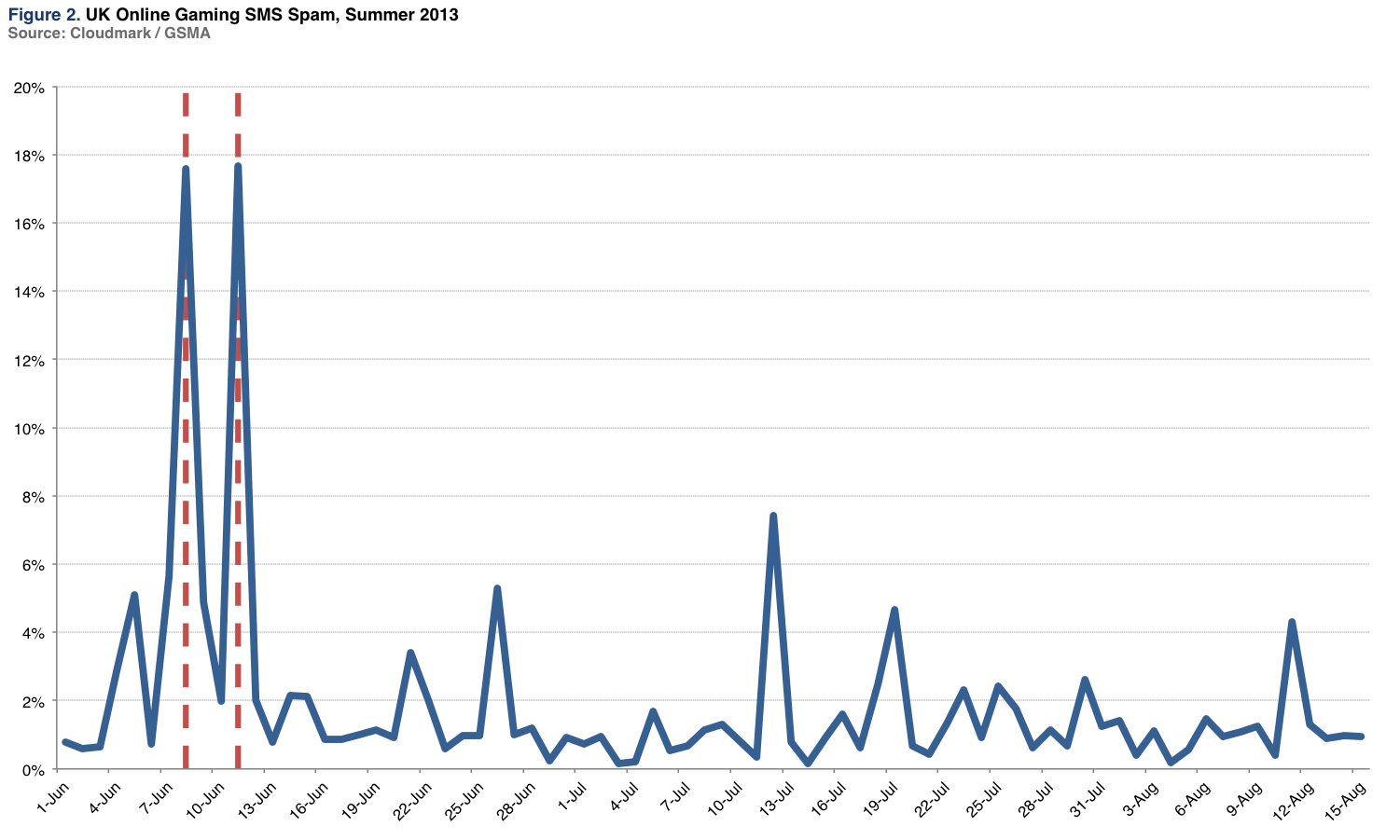 Meanwhile, the UK also seems to be taking a lead on tighter regulations surrounding the payday lending market.  So far, these tighter regulations have had little effect on the most prevalent form of UK SMS spam. Payday Loan spam was still contributing between 40 and 50 percent of reports on most given days this summer, demonstrating the sector's dominating presence within the realm of UK SMS spam.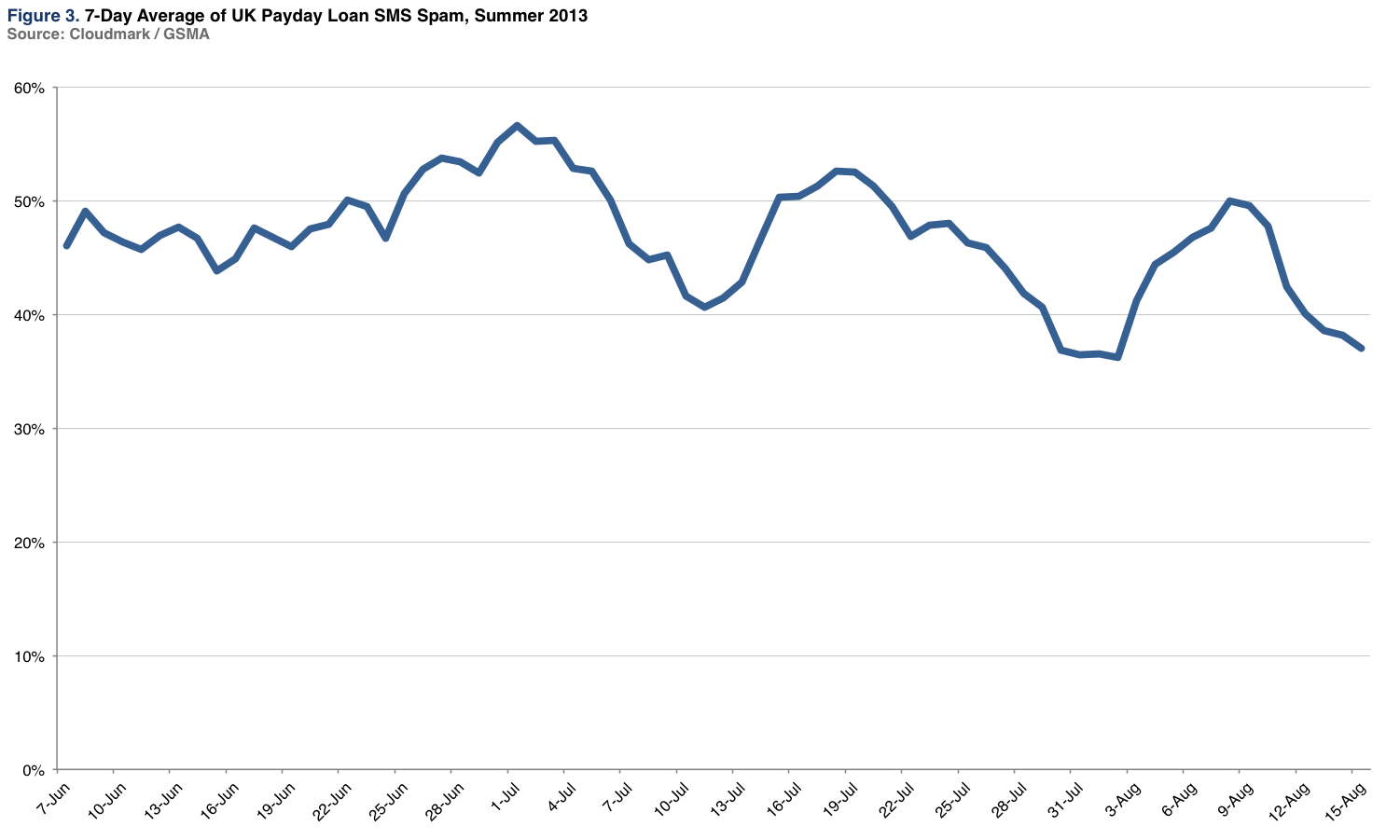 While Payday Loans remain legal in many countries,
they've recently come under fire
in the UK from The Office of Fair Trading (OFT). The OFT gave 50 UK firms, accounting for 90 percent of the market, a twelve-week deadline to clean up their act or face losing their credit license. As a result, 19 of the top 50 payday loan lenders have abandoned the payday lending as of July 30th. Four of those have voluntarily forfeit their licenses to avoid audits. Following these OFT investigations, the Financial Conduct Authority (FCA) will be taking control of payday lending oversight in April 2014. Questionable advertising practices are a primary focus to be addressed by the FCA. Head of the FCA, Martin Wheatley, specially cites the
targeting of young adults and students as a primary concern
. It is plausible that SMS (a communication medium heavily populated by younger generations) could be tied into protecting these demographics. While not explicitly stated, regulations imposed by the FCA could include restrictions on SMS adverts for this reason. We'll know more this fall when the FCA publishes its preliminary assessment of how it has decided to handle the short-term loan sector. In the meantime, we've already seen a subtle downturn in the amount of UK payday loan SMS spam over the summer (see Figure 3), but only time will tell if it is a long-term trend. Stay tuned for more details!