Not all SMS spam is sent by cyber criminals or con men. Businesses that are too eager to promote their products can often cross the line from legitimate marketing into spam. A company called Optical Express, for example, is one of the most persistent line crossers in the UK. Based on reports to the mobile carriers' Spam Reporting Service (which is powered by Cloudmark) the Information Commissioner's Office (ICO) has now issued a warning to Optical Express to stop spamming or face criminal penalties. Back in 2012, one of my colleagues
blogged
about Optical Express when his wife's Sunday morning was interrupted by an unexpected text.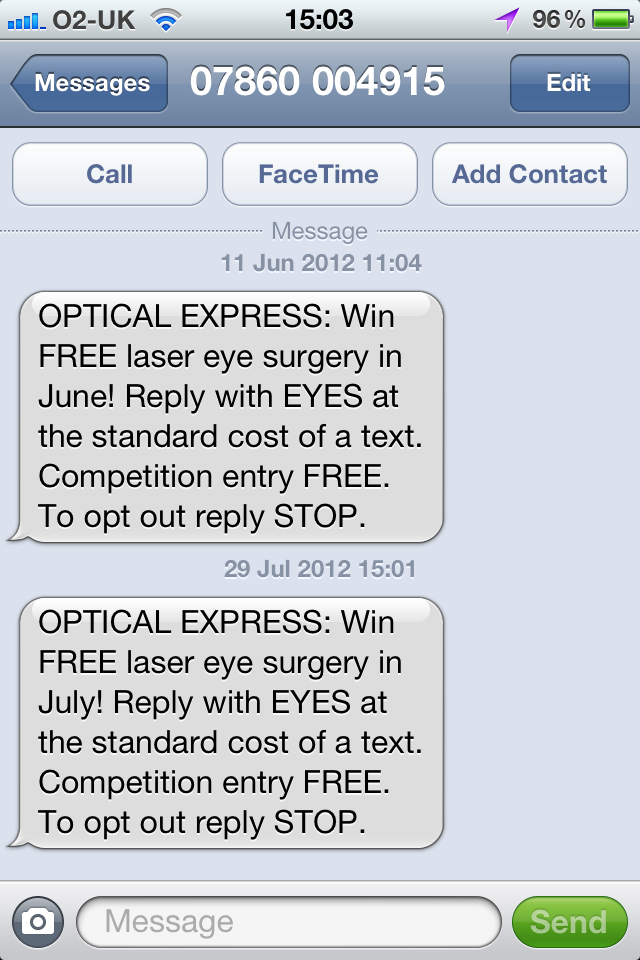 Noticing that this was the second unwanted text from the same sender, he made some calls to see where they had got his wife's number from. He found that Optical Express purchases their phone number lists from a company called Direct Marketing Lead Solutions (DMLS). DMLS in turn harvests them from a variety of other companies and web sites. This is a breach of the
ICO's direct marketing guidelines [PDF]
, which say:
In many cases organisations will need consent to send people marketing, or to pass their details on. Organisations will need to be able to demonstrate that consent was knowingly given, clear and specific, and should keep clear records of consent. They should use opt-in boxes if possible.
The rules on calls, texts and emails are stricter than those on mail marketing, and consent must be more specific. Organisations should not take a one-size-fits-all approach.
Organisations must carry out rigorous checks before relying on indirect consent (ie consent originally given to a third party). Indirect consent is unlikely to be valid for calls, texts or emails, particularly if it is generic or non-specific.
The
ICO's press release
states. "
Over 4,600 people registered concerns about Optical Express (Westfield) Limited in just seven months reporting the unsolicited messages to the mobile phone networks' Spam Reporting Service.
" This highlights the importance of reporting text message spam. Those reports enables carriers to block spam in the short term, and in the long term enables law enforcement to take action against the source. To report an spam SMS message, forward it to 7726 - that's S-P-A-M if your phone keypad has letters on it.